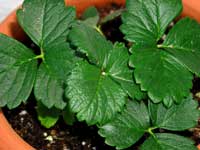 This is a question submitted to Strawberry Plants .org by a reader. See the Strawberry FAQ for more questions, or use the search box to find more information.
Q: Are Container Strawberries Perennial?
Marilyn Sommer asked:
If a person grows strawberries in a container, will they grow back the next year or do you have to replant them every year. will you get many berries if using a container?  Thinking about next year…
Thanks,
Marilyn
Answer to: Are Container Strawberries Perennial?
Marilyn,
As long as you take proper care of them, they will come back.  You should not have to replant them.  The number of berries you get depends on the amount of nutrients the strawberry plants get.  If they are tightly packed in a container, they won't do well.  If they are in good soil with appropriate water, they will produce just about as well as any other planting modality.