Growing strawberries in containers can be tricky. Strawberry growers often find their potted plants produce fewer berries than plants grown in a raised bed or in the ground. That doesn't need to be the case with your strawberry container garden though.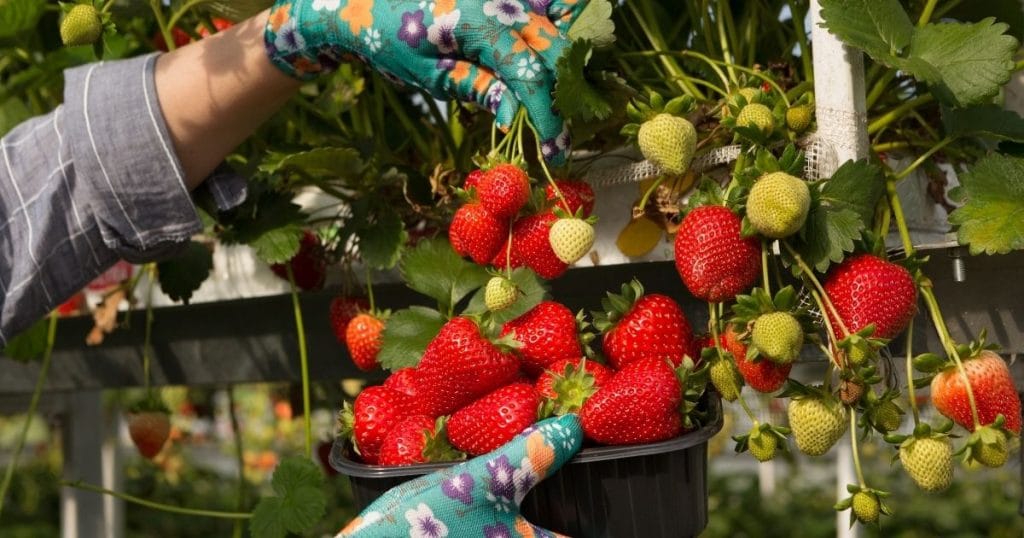 Growing strawberries in pots isn't any more complicated than growing in the ground, just a little different. Follow these 7 simple principles to have a productive strawberry container garden.
Jump to:
1. Container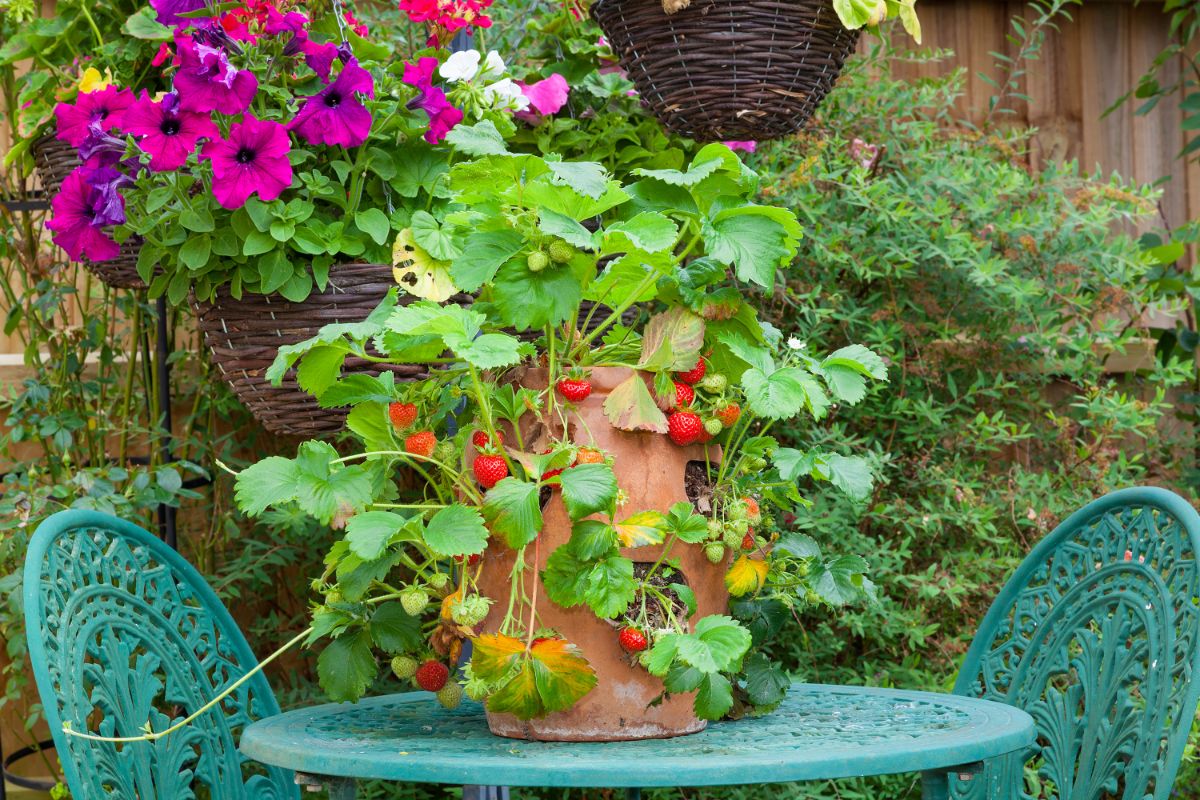 Bestseller No. 1
4 PCS Fruit Storage Containers for Fridge with Removable Colander, Airtight Food Storage Container, Dishwasher Safe Produce Saver Container for Refrigerator, Keep Berry Fruit Vegetable Fresh Longer
🍋 Better for different produce : You will get 4 different sized fridge organizers and 4 matched colanders that could be used in the container or separate. Size from 0.8 L to 4.15 L [1.7 - 8.8 pt / 3.4 - 17.7 qt ]. Suited for different berries, fruits, vegetables, meats and so on.
🍋 Keep your fruits fresher longer : The refrigerator organizer bins have a sealed environment which constructed by sealing ring and locking buckles to prevent the loss of water in food.The interior basket allows water to fall away from the fruit and be kept within the container but away from the food.
🍋 Stay organized always : The fridge bins and organizers can help us categorize, organize and pretreatment produce, fruits, vegetables, berry and meat etc, keep your refrigerator organized. They can be stacked all in one minimizing the space they take up when not in use.
🍋 Food grade material : The fruit storage containers is made of food grade material PP whcih is bpa free and durable. The Applicable temperature from -22℉ to 284℉(-30~140℃). Which mean's the storage containers are dishwasher safe (lid is not included), microwave safe (lid not included) and freezer safe.
🍋 Easy to open & colse : You can pretreatment and clean the fruit and berry, your families are able to open the lid to eat fruit or berry anytime and anywhere. Good idea for store leftovers or to prep meals too.
Bestseller No. 2
JCXGRVC 8x5x2 Inch 20PCS Cookies Boxes Chocolate Covered Strawberries Boxes Bakery Boxes with Window Cakesickle boxes Chocolate Truffle Boxes Pretzel Boxes
【Quantity;Size】20 Pack Bakery boxes only,not including any food, Length:8 inches (20.3CM) x Width: 6inches(15.2CM) x Height:2 inches(5CM)
【Window】Bakery boxes with clear window,perfect for showing off your delicious food,such as cookies strawberries it looks more pretty and elegant
【Use】Pastry boxes perfect for cookies,chocolate covered strawberries,macaron,chocolate bomb,mini cake,cookies,macaron,truffle,browine, donut,small treat
【Easy to Store】This bakery cookies box comes flat, you need essamle by yourself,ensuring that it's easy to store and takes up less space
【Application Occasion】Easter Mother's Day Christmas Valentine's Day Halloween birthday party,wedding receptions,graduation party favors
Bestseller No. 3
Ronanemon 3Pack Fridge Food Storage Container Set with Lids with Strainer, Fruit Vegetable Storage Containers Keep Fruits, Vegetables, Berry, Meat Fresh longer, BPA-Free Plastic Produce Keepers
【Mutifuction Design】The fridge container comes with a filterable basket. The basket can be used as a colander to wash your fruits and vegetables, or to strain out water while cooking foods like pasta or mashed potatoes.
【Premium Safe Material】: Clear color so you're able to see inside of the fruits container. And it's made of premium food-safe material which is BPA free. It will resist stains and odors, and are easy to clean with soap and warm water! Temperature resistance: -4~248℉(-20~120℃). Environmental friendly, Safety and Durability!
【Best Gift】This containers for fresh is great gift ideal for your friend, family,They can be used to store many types of fruits or vegetables, such as lettuce, tomatoes, strawberry, and grapes. Reduce the messy refrigerator storage, and save more space structure for the fridge and easy to carry making them ideal for outdoor activities such as picnics, camping or road trips.
【Reasonable Space Utilization】:fruit storage containers come with 3 sizes of 13.2 cup + 7.3cup + 3.3 cup for fridge or pantry storage and organization. Airtight food containers is perfect to store fresh produce, fruit, lettuce, cabbage, berry, pre-cut food, salad mix, meat, seafood or dry food.
SATISFACTION GUARANTEE:If for any reason you're not completely happy with your purchase-simply let us know and we will either replace it or refund your money!
Choosing the proper container is the first and most important step to growing healthy, productive strawberry plants. The roots of strawberry plants grow shallow and like evenly moist, well-draining soil.
A good pot will help maintain the proper soil moisture and stabilize the soil temperature over the course of the day. Try one of these 5 pots proven to promote healthy strawberry plants.
2. Variety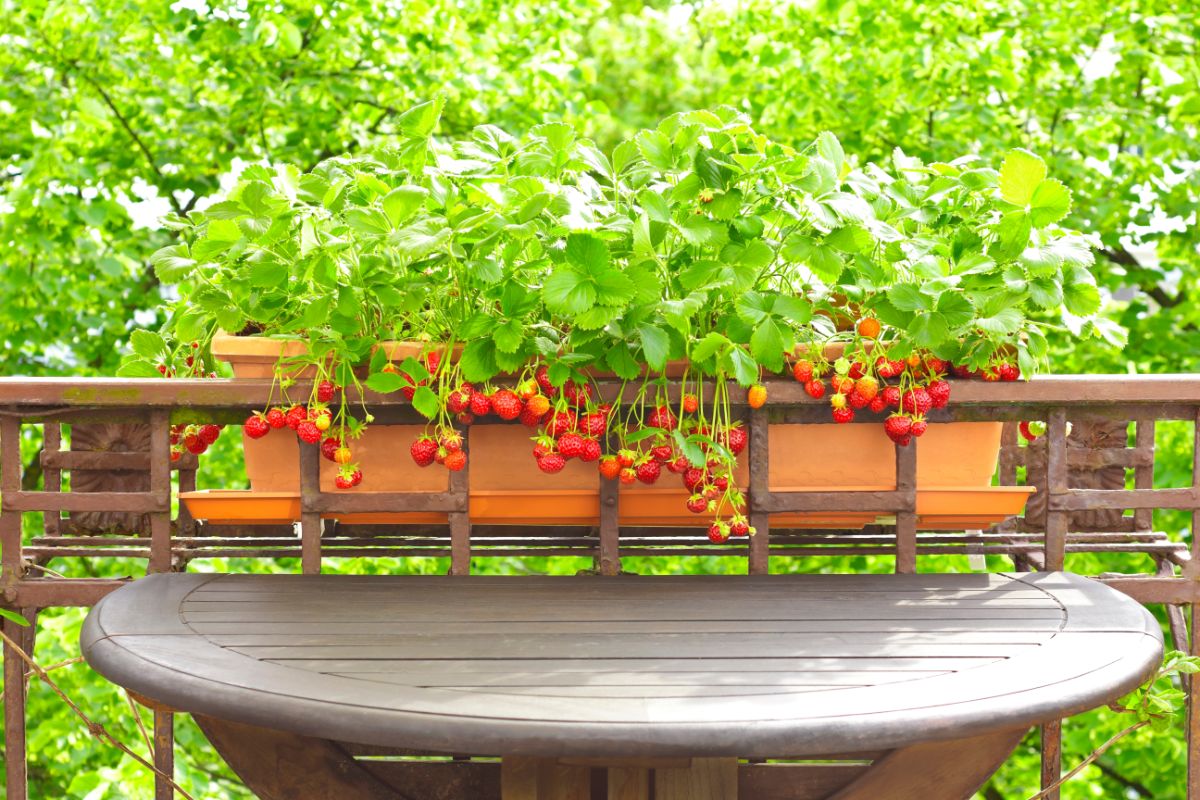 Choose a strawberry varietal best suited for container growing. Ever-bearing strawberry types produce strawberries all season long, are not sensitive to minor temperature fluctuations that a container will amplify, and produce few runners. Alpine strawberry plants are an ever-bearing type that is compact, super sweet, and runner-less. Avoid June-bearing types for your container garden.
3. Crowding
Crowded strawberry plants will not produce a lot of strawberries. Avoid overcrowding the roots of your plants by using a strawberry pot that has separate pockets for each plant.
Otherwise, limit your container to 4 plants per square foot of surface area. You cannot grow more strawberry plants together if you use a deeper pot because strawberry roots grow close to the surface.
4. Runners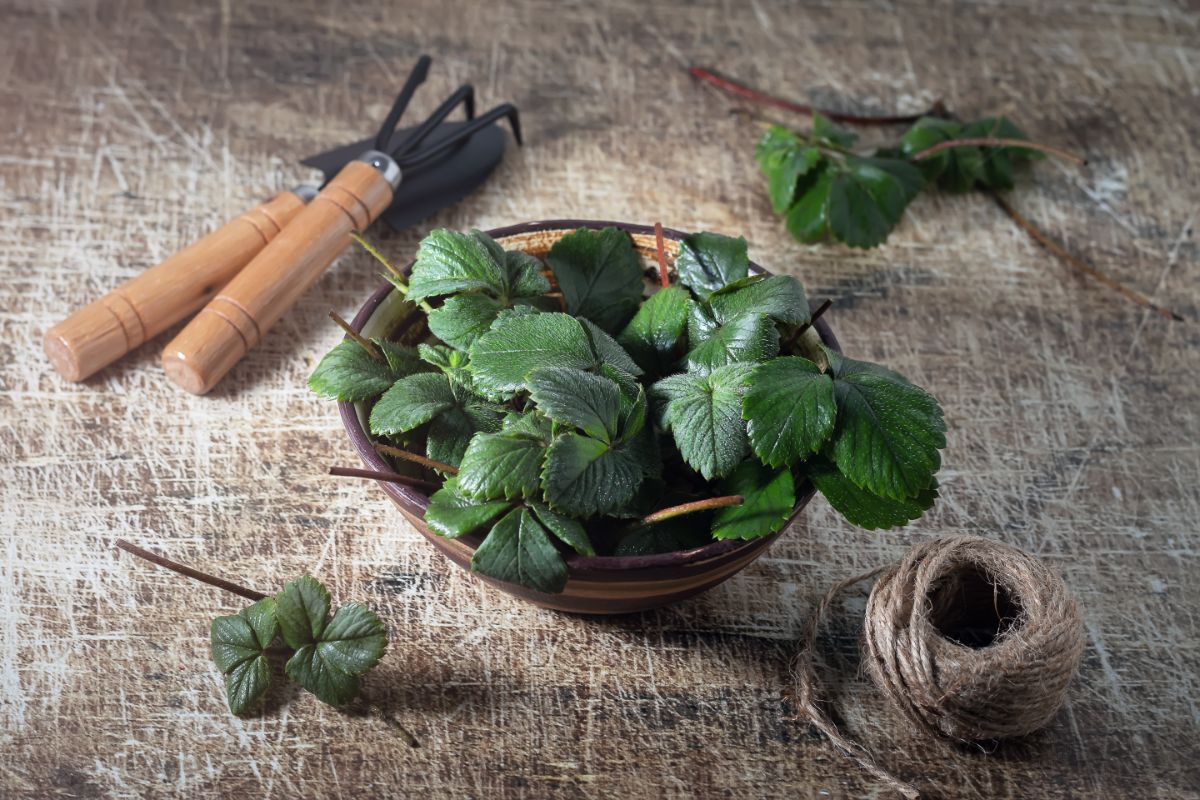 Though some choose not to, most strawberry gardeners snip off the runners to encourage increased berry production. It is especially important to snip off runners from strawberry plants growing in containers because there is nowhere for them to root and they will continue to feed off of the mother plant. You can start new plants from the runners you remove if you wish but don't let them interfere with your harvest.
5. Watering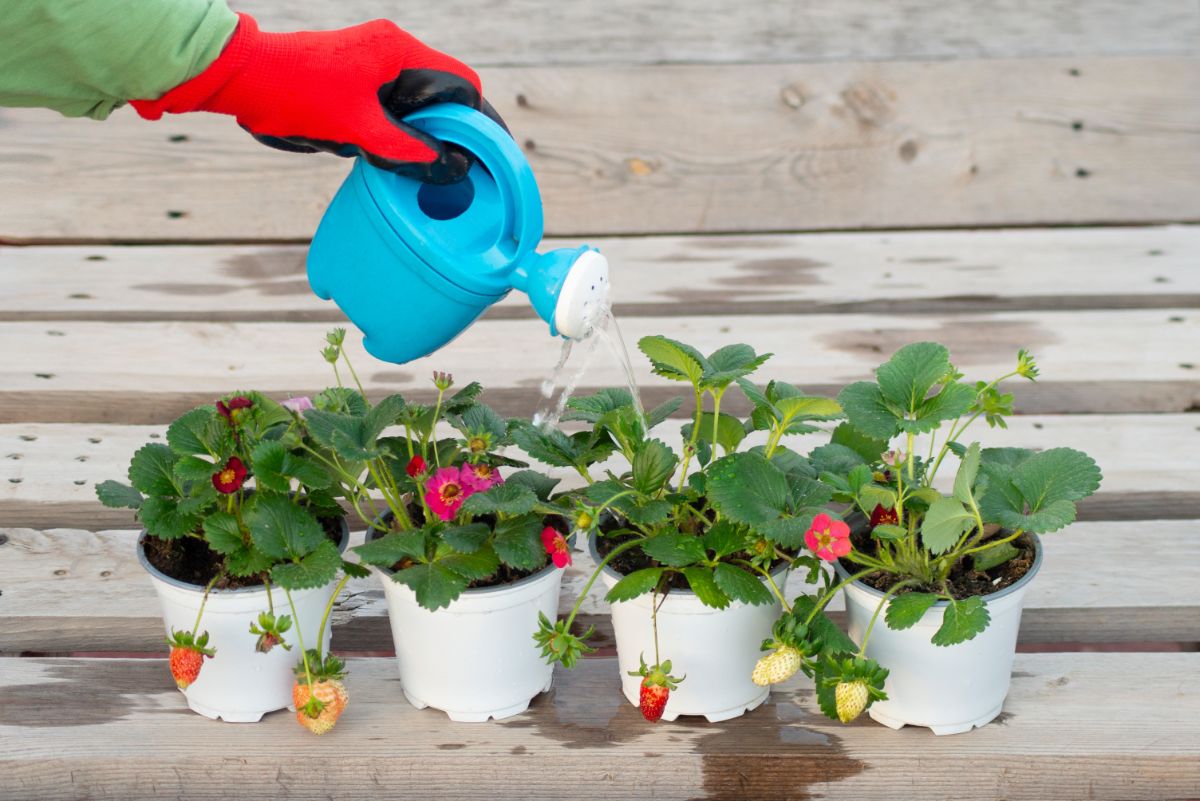 The principle of watering your strawberry plants remains the same as watering strawberries in the ground. Water enough to saturate the soil and allow it to drain completely before watering again.
A pot holds a lot less soil, and therefore less water, than the ground so water your potted strawberries more frequently but not as deeply. The soil should feel damp just below the surface within 3-4 days after watering.
6. Fertilizing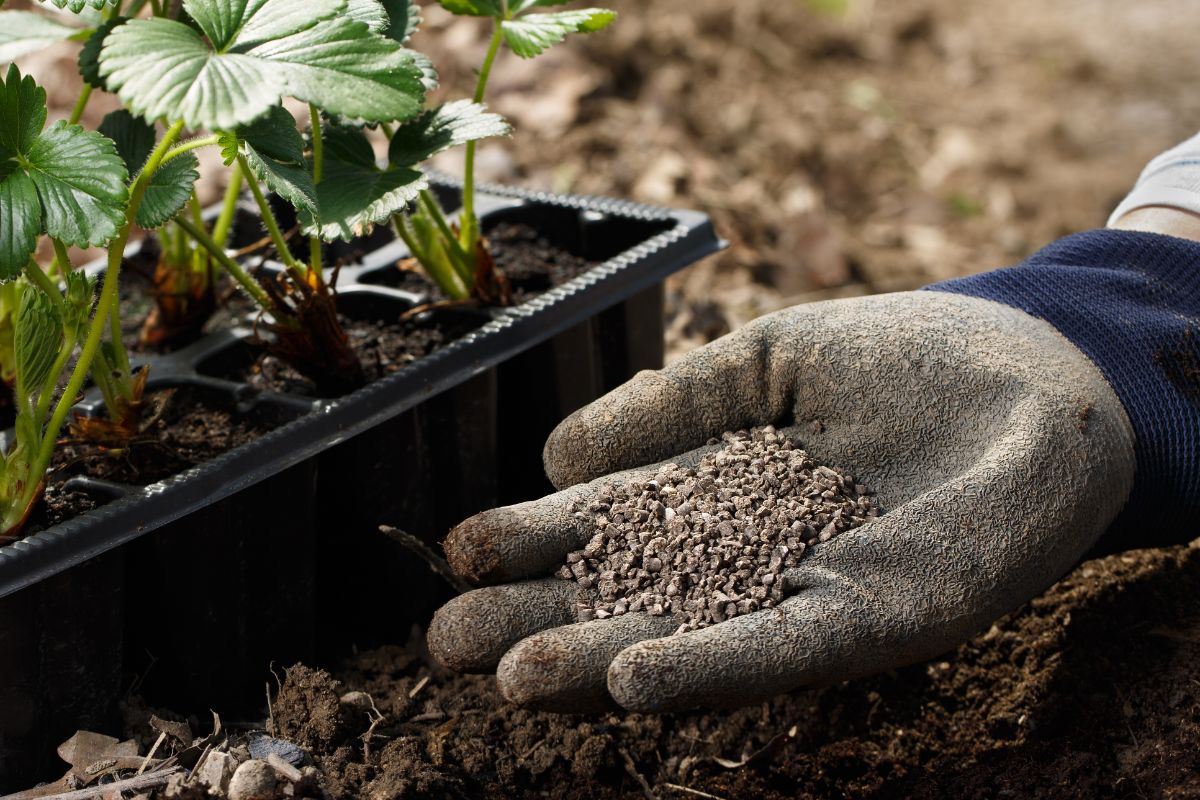 Bestseller No. 1
Espoma Organic Berry-Tone 4-3-4 Natural & Organic Fertilizer and Plant Food for All Berries. 4 lb. Bag. Use for Planting & Feeding to Promote Bountiful Harvest - Pack of 2
FOR USE ON: Use Berry-tone organic fertilizer for all berries including blueberries, strawberries, raspberries, and blackberries
CONTAINS: Berry-tone is a rich blend of the finest natural & organic ingredients enhanced with our exclusive Bio-tone formula; 4-3-4 Fertilizer analysis with 5% Sulfur. Berry-tone is environmentally Safe - No sludges or toxic ingredients
WHEN / HOW TO USE: Best to use Berry-tone fertilizer when planting or feeding established plants; most berries are best fed twice each year in early and late Spring. Berry-tone is ready to use and requires no mixing
FOR ORGANIC GARDENING: Berry-tone is approved for organic gardening; It is a registered Organic Input Material meaning it meets all requirements for organic production
MADE IN THE USA: Product of the Espoma Company. The leader in natural organics since 1929
Bestseller No. 2
Bestseller No. 3
Don't forget to fertilize your potted strawberry plants! You should first mix fertilizer with the soil when potting. Then supply fertilizer every 2-4 weeks after flowering starts until the plants begin to go dormant. Yes, continue to fertilize your strawberry plants after the harvest is over so you'll get a lot of fruit next year.
7. Insulating
Strawberries grown in pots need protection from the elements because their soil is more susceptible to temperature fluctuations. In mild climates, move the pots closer to your house for warmth during the winter. In harsh climates, move your pots into a building, bury them, or wrap them in blankets or straw to minimize the shock from extreme temperature changes.
For a more detailed explanation of why these tips work, visit Growing Strawberries in Containers.