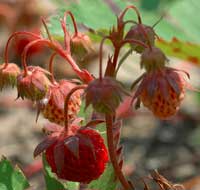 This is a question submitted to Strawberry Plants .org by a reader. The information provided in response to the question may benefit others with the same or similar inquiries. Therefore, it has been added to the archive page of submitted questions. See the Strawberry FAQ for more questions, or use the search box at the top right of this page to search this site for information.
Q: Red Strawberry Stems and Leaves?
On November 8, 2010, beth asked:
What causes the strawberrie stems to turn red?  we set out a acre of chandlers and we were late due to the weather they were not in the ground but 5 days before it frosted on them we were worried they might have started going into dormant stage because of the stems turning red.
Answer to: Red Strawberry Stems and Leaves?
beth,
Strawberry plants naturally have a red pigment in them. Red stems depend on the genetic expression of the particular plants you have, and red stems are completely normal. Most strawberry plants have enough chlorophyll in the stems to overwhelm the red coloration and make the stems green. Red stems are nothing to worry about. Red strawberry leaves, however, are a different story. If your strawberry leaves are turning red, they are likely dying. Some fungal infections can cause them to die. Other times, the leaves are just dying because they are old. Regardless, strawberry leaves turning red do not serve a helpful function for strawberry plants and should be removed and discarded.
[ red strawberry stems and leaves ]
Strawberry Plants .org exists to help spread the passion for growing and eating strawberries. However, manpower is limited. If you have a question related to strawberries, feel free to submit it or post it as a comment. Please be patient, though, as it may take some time before your question is addressed.