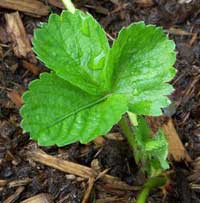 This is a question submitted to Strawberry Plants .org by a reader. The information provided in response to the question may benefit others with the same or similar inquiries. Therefore, it has been added to the archive page of submitted questions. See the Strawberry FAQ for more questions, or use the search box at the top right of this page to search this site for information.
Q: What Do Young Strawberry Plants Look Like?
On July 5, 2010, j fox asked:
I have a few strawberry plants that have sent out some runners but the new plants don't look much like the mothers? is this normal? should I remove the new plants? will they look more "normal" later?
Answer to: What Do Young Strawberry Plants Look Like?
j fox,
Thanks for stopping by Strawberry Plants .org! It is fairly common for young runner plants to look different from the mother plants at any given age.  Often, the leaves will be a lighter green and will look more "jagged" than the older, more mature leaves on the mother plant.  However, the runner plants are exactly the same as the mother plants genetically.  Because of this, if you let them grow, they will carry the same genetic material and manifest all the same traits as the mother plants (and will eventually look almost identical).  Remember, the mother plants usually have a good bit of growing done ahead of the clone plants.  Because of this, the clone plants will look like the mother plants used to look when they were that age, and the mother plants will look like the clone plants are going to look when they get to be that age.  So, to be more direct: yes, slight appearance variation is normal, and they will look more "normal" later on.  As to whether or not you should transplant them, that depends.  You can read the page on Transplanting Strawberries for help there!
[ what do young strawberry plants look like ]
Strawberry Plants .org exists to help spread the passion for growing and eating strawberries. However, manpower is limited. If you have a question related to strawberries, feel free to submit it or post it as a comment. Please be patient, though, as it may take some time before your question is addressed.