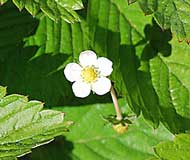 This is a question submitted to Strawberry Plants .org by a reader. See the Strawberry FAQ for more questions, or use the search box to find more information.
Q: How Long Do Strawberry Plants Live?
Mark asked:
Thanks for the information here. I would like to know how many years I can sustain the plants please. I ask this because it would be great to continue on and keep the same plants growing for as long as possible. I have heard that three years is maximum but surely if you move plants/cutting around to different beds you will be able to keep grwoing for MANY years.
Thanks,
Mark.
Answer to: How Long Do Strawberry Plants Live?
mark,
If you take any single strawberry plant, it will begin losing its vigor at about 3 years of age, in most cases. Age 3 for a strawberry plant is like age 50 for a human, so to speak. Few individual plants will make it to 6, just like few people make it to 100. And, productivity tends to drop off for most strawberry plants and people after that half-way mark as well. But, just like people who can keep their "line" going indefinitely through children, so can strawberries through their runner plants. If you start with even a few plants, you can keep growing strawberries forever if they don't get diseased and are well cared for. To see how to do it, see this post: Transplanting Strawberries.  Good luck!