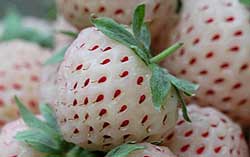 During the cold months of bitter chill and cabin fever of winter in the Northern Hemisphere, Green Thumbs everywhere begin to wistfully ponder the coming day when breaking ice gives way to breaking soil. When it is too cold outside to do much gardening and the only growing things are the icicles on the neighborhood gutters, many anxious gardeners sit down and plan their gardens. Which fruits and vegetables will be grown? How much space to allot to the staples and how much to unique, new, or exotic varieties? What will the layout be? Should the garden be planted in rows or according to the principles of square foot gardening?
Just thinking about it gets a Green Thumb's sap flowing!
This year, consider sending out your runners in a new direction. If you have even a square foot or two of extra space in your fertile soil, consider planting a few pineberry plants. Pineberries are hybrid strawberries just like the normal strawberries you buy at the store or grow from ordered plants. The difference can be seen in the photo above. They are white strawberries with bright red seeds! And, they get their name from their unique pineapple/strawberry taste: PINEapple + strawBERRY = PINEBERRY.
If you are interested in learning about or growing this unique strawberry variety in your garden this year, you might want to click the following link now…
The plants are quite uncommon. If you want to buy pineberry plants to grow this year (or if you simply want details and information about this strawberry prodigy), click here: Pineberry Pineberries.